Picual Oil Recipe
Spiced Candied Almonds, Blueberry & Avocado Salad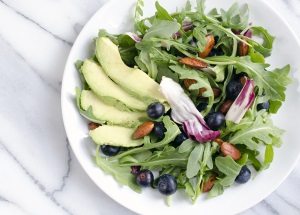 Recipe and photo courtesy Jennifer Farley of Savory Simple
INGREDIENTS
For the almonds:
1/2 tablespoon 

extra virgin olive oil

1 tablespoon pure maple syrup

1/8 teaspoon ground cinnamon

1/8 teaspoon ground cayenne pepper

1/4 teaspoon sea salt

1 cup

California Almonds
For the salad:
6 ounce clamshell fresh blueberries

1/4 cup

extra virgin olive oil

1 1/2 tablespoons balsamic vinegar

Pinch of sea salt and pepper

4 – 6 cups baby arugula

1

California Avocado

, sliced
PREPARATION
Prepare the almonds: Preheat the oven to 300 degrees F. In a medium sized bowl, combine the 

extra virgin olive oil

, maple syrup, cinnamon, cayenne and sea salt. Add the almonds and stir until coated evenly. Spread in a single layer on a sheet pan lined with aluminum foil. Bake the almonds for 10 minutes, stir, and then bake for an additional 10 minutes. Allow to cool.
Prepare the dressing: Turn the oven up to 400 degrees F. Place 1 cup of the blueberries onto a baking sheet lined with aluminum foil. Roast for 12-16 minutes, gently shaking the pan every 4 minutes so that the blueberries cook evenly. Allow to cool and then add the blueberries and pan juices to a blender. Add the 

extra virgin olive oil

, balsamic, salt and pepper. Puree until smooth.

Prepare the salad: Divide the arugula evenly onto 4 plates. Top with spiced candied almonds, avocado slices, the remaining blueberries and a sprinkle of salt and pepper. Drizzle the vinaigrette on top and serve.