Recipe for Pendolino Oil
Slow-Roasted Citrus Salmon in Olive Oil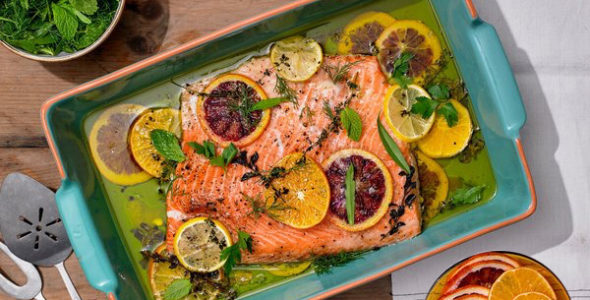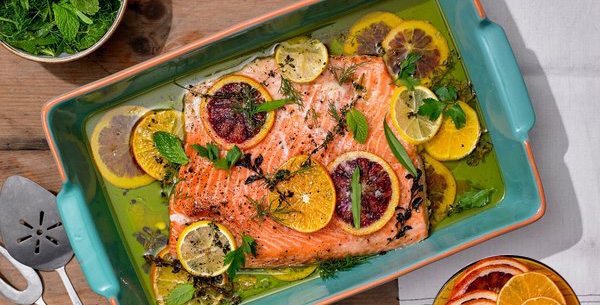 Yield: 4 to 6 servings / Preparation Time: 30 minutes
INGREDIENTS
1 (1 1/2 pound) piece of skinless salmon fillet (or halibut or cod)

Kosher Salt and freshly ground pepper

2 lemons, Meyer or regular, thinly sliced, plus 1 tablespoon fresh lemon juice

1 blood orange, mandarin orange or regular orange, thinly sliced

6 sprigs fresh thyme, rosemary, oregano or marjoram (optional)

2 cups extra virgin olive oil

2 cups fresh herbs, such as parsley, cilantro, dill and tarragon, roughly picked from the stem

Flaky sea salt
PREPARATION
Heat oven to 300 degrees. Season salmon with salt and pepper on both sides. Place in a large baking dish with sliced lemons, oranges; and thyme, rosemary, oregano or marjoram, if using.

Drizzle everything with olive oil an bake until salmon is just turning opaque around the edges and is nearly cooked through, 25 to 35 minutes.

Toss fresh herbs with 1 tablespoon lemon juice, 1.5 tablespoons olive oil and flaky salt. Service alongside salmon.