Italian Blend Oil Recipe
Broccoli with Sesame Seeds, Parmigiano, and Lemon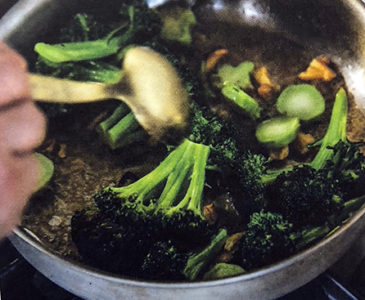 Serves 4 
INGREDIENTS
1 lemon
Extra virgin olive oil
2 garlic cloves, smashed and peeled
½ t dried chile flakes
1 ½ pounds broccoli, stems trimmed and peeled, then cutd lengthwise into long stemmed florets the full length of the stems (aim for even sizes)
Kosher sald and freshly ground black pepper
¾ cup sesame seeds, lightly toasted
½ cup freshly grated Parmigiano-Reggiano cheese
PREPARATION
Grate the zest from the lemon into a large bowl. Halve the lemon and squeeze the juice into the bowl (fish out and discard the seeds) and set aside.Heat a nice glug of olive oil in a large skillet that has a lid over medium heat. Add the garlic and cook slowly to toast the garlic so it's very soft, fragrant, and nicely golden brown – but not burnt – about 5 minutes. Add the chile flakes and arrange the broccoli in an even layer – it's okay if the pan is crowded. Season with ½ teaspoon salt.Increase the heat to medium-high and add a nice big splash of water, about ¼ cup (enough water to create steam, but not so much that the broccoli sits in water and gets soggy) , and put the lid on right away. Steam the broccoli until it's tender, adding more water a few times. The whole process should take about 10 minutes.

When the broccoli is cooked, transfer it to the bowl where the lemon is waiting. Add the sesame seeds and lots of twists of black pepper and toss gently. Taste, adding more salt, chile flakes, or black pepper as needed. Add 1/4 cup olive oil, toss again, and then shower with the Parmigiano. Serve warm or at room temperature.

More ways:

Transform this into a main dish: Add some diced fresh chile – hot or cold, as you like – to cook along with the garlic. Just before you add the broccoli, increase the heat and add 1 inch chunks of boneless chicken breast or chicken thighs. Let them cook for a minute, then add the broccoli and continue with the recipe.

Make a medley: Use a mix of vegetables in addition to the broccoli: carrot coins, cauliflower florets, chunks of summer squash.